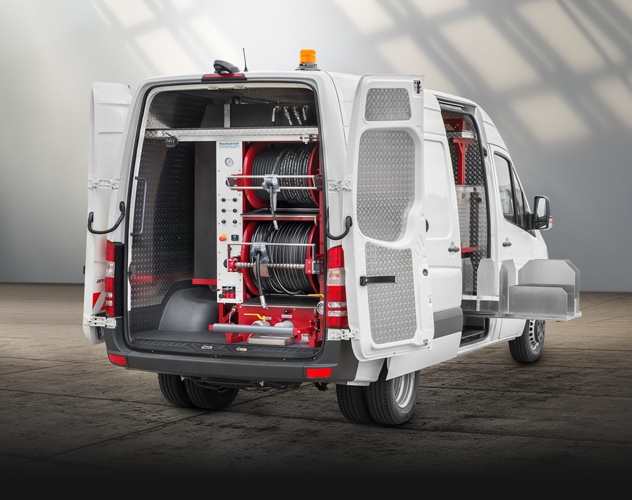 HP vans with auxiliary drive
HP vans with auxiliary drive
The auxiliary drive allows maximum performance with low space requirements and compact external dimensions. Combined with the flexible configuration of the tool space, you get the ideal vehicle for any application. The low noise level also makes working at night easier and makes you particularly independent. Regardless of whether you need a 3.5-tonne class mini van suitable for underground parking or a van with up to 216 litres / 190 bar.
The InRoKa RB in right-aligned design is the all-rounder among the HP cleaning vehicles. Thanks to its compact design, it can be expanded to a pure HP cleaning, CCTV sewer inspection with HP cleaning unit or pipe testing vehicle and can be used for pipe cleaning of up to 600 mm diameter, depending on its performance.
A wide range of accessories, including a remote control including motor start/stop, auxiliary heating or a continuously variable pressure increase, make your InRoKa HP sewer cleaning vehicle a reliable and powerful partner.
Auxiliary drive from the vehicle
Safety, overflow and pressure regulating valve
Water filter
Waterproof design with
Gas control device,
Pressure regulating device,
Hose reel operating device,
Display instruments
optionally stainless steel or plastic
highly wear-resistant floor covering in spray application, made of a casting compound or checkered plate
complete cladding and insulation of walls, ceiling and doors to protect the bodywork from condensation and moisture
Custom tool room extensions
Tool cabinet installations
Accessories (hoses/nozzles) etc.
LED lighting concept
Remote control
Gel battery set
Dynawatt
Power generator
Independent vehicle heater
right-aligned installation